It looks like Nestle might be making Kit Kat's team-up with Japanese fast-food chain Mos Burger an annual event, as starting December 14th sweets fans were able to pick up this limited edition packaging at Mos Burger's nationwide for 120yen (about $1.50). With a great big space to write sweet nothing to a special someone, this package contained 3 of the original-flavour Kit Kat bars. You can see my review of the first collaboration at https://oyatsubreak.com/?p=507.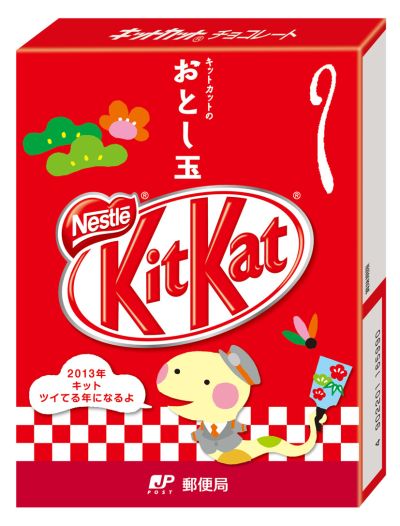 Also following on 2012's New Years celebratory Kit Kats comes these special "Year of the Snake" editions, available at Japan Post offices across the country. This one actually comes in two designs:
Also, according to this website: http://entabe.jp/news/article/952 you're supposed to make a wish for the new year before opening the box, and if one of the three packs of two-finger Kit Kats inside is in a special gold foil wrapper, your wish will come true and you'll have a lucky year! Sounds neat…. and includes space to write a note for a friend or loved one, wishing them a happy new year, and an envelope if you want to include money with it. I'm pretty sure you can just slap a stamp right on these and send them in the mail (don't mail cash though). So neat!
You can check out my post on the 2012 New Year's Kit Kat here: https://oyatsubreak.com/?p=456