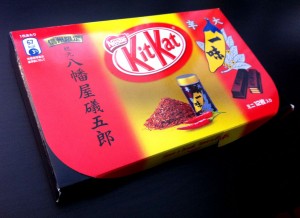 Hot Japanese Chilli Kit Kat (Yawataya Isogoro Ichimi)
Shinsyu Limited edition Gift Set Flavour
Purchased: Tokyo, Narita Airport November 2010
Best Before: May 2011
Review Date: July 2011
Original Price: 1320 yen
Chili and chocolate is a natural pairing, really! It can be found in specialty chocolate shops around the world, particularly in countries with access to both good cocoa, and good chilies.
I was delighted to discover this flavour at my airport Kit Kat treasure trove, as it's comprised of ingredients that are recognizable to folks in the west, but unique as a Kit Kat flavour.  It's spicy chocolate, and despite its appearances in upscale chocolate boutiques the general public would still be a little weirded out–in short, a perfect gift to bring back to North America!
Of particular note, this is a Shinshu Region limited edition flavour. Shinshu (also read as Shinsyu) is roughly equivalent to present-day Nagano, site of the 1998 Winter Olympics and northwest of Tokyo. Not quite as far a distance to travel as Hokkaido, to get the Yubari Melon Kit Kats, but still: thank you import store at Narita Airport!
Yawataya Isogoro is actually a specific manufacturer in the region, famous for its chili spices. This marks a partnership between Nestle (Kit Kat) and the manufacturer, which is kinda neat. This wasn't immediately obvious to me, not being familiar with Japanese spice companies, but I'm glad I looked it up! :) If you're curious about them, you can visit their English language website.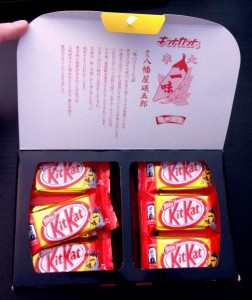 Packaging: The most elaborate packaging for Kit Kats in Japan (that I've come accross anyway) is the 12-bar gift-set packaging, available on the regional specialty flavours sold at major train stations, transport hubs, and tourist destinations. These are lovely and usually beautifully designed, drawing in aspects of traditional Japanese patterns and design. This box is no exception to the rule, though it does offer bolder blocks of colour and a sort of shiny gold motif.
Speaking of which: The wrappers are gold! Shiny gold and red actually, super-classy.
The Kit Kat standard gift set packaging features a cardboard box with a plastic insert tray, two rows of six Kit Kats each-perfect for sharing with all of your coworkers after you return home from the Shinsyu region of course. Because you wouldn't dream of going anywhere in Japan, and not returning home with a treat featuring an item that the region is famous for.
All in all, really great packaging, but the romanization of the Japanese on the box is a bit of a train wreck–here's hoping the next printing cleans that up a bit.
Smell: These Kit Kats don't have a particularly strong scent, but a deep inhale gives you dark chocolate notes and a hint of the spice to come. It's actually nice.
Taste: This is a darker, less-sweet version of the standard Kit Kat chocolate and it matches well with the surprising amount of heat that hits right in the back of your mouth. It's a nice smooth dark chocolate too, just the barest touch of bitterness. And the heat is real! Much spicier than I might expect from a Japanese snack regularly, the pepper on the package is a good indication of what you'll find inside. It's a pretty straight-forward chili-flake heat, but it's a little more complex than I was expecting and it's really well-suited to the darker chocolate.  It also builds nicely with each Kit Kat you eat, giving you that "good burn" that makes spicy food so addictive. Congrats to Yawtaya Isogoro, you make some spicy chili peppers!
Verdict: This is probably one of the most successful, balanced, and palatable Kit Kat flavours I've ever tried… which isn't to say that it's either boring or "standard", honestly. It's a really great, balanced snack. I'm just saying that I could easily see this on store shelves in North America, though it would probably have the word 'extreme' in the title, sadly.