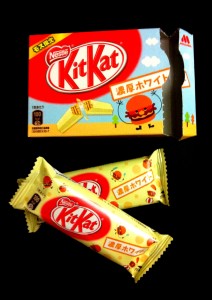 Review: Kit Kat Mos Burger Exclusive (Rich White Chocolate)
Gifted: January 2012
Best Before: October 2012
Review: January 2012
It's not often that I get to review something either 'rare' or 'cutting edge' in Japanese snacks here at the blog. I guess to folks who don't live in Japan or aren't Japanophiles (heh) this is all both rare and cutting edge, but to me flavours like Wasabi, Soy Sauce, and Blueberry Cheesecake are kind of common now. No, to be able to get something that's a) a limited edition Kit Kat, b) only available for a short time, and c) somewhat hard to find even in Japan? Well that's awesome.
My good friend David was visiting his extended family in Japan over the Christmas Holidays, and when he spotted these Mos Burger x Kit Kat collaborations he immediately tweeted them to my attention. After basically begging him to grab me some, lo and behold, a bunch of them showed up on my doorstep just a week later! Shipping must have cost a fortune (the bars cost 120 yen each, or about 10 bucks total), and so I say to David a very sincere thank you.
And now, now I've got Mos Burger Kit Kats! And I'm happy to be able to share them with you…!
Packaging: In a bit of a departure for Kit Kat, the packaging has eschewed the lush photographic backgrounds of most of the recent releases to embrace the superflat, super cute icononography of the Mos Burger characters. This is a very Japanese release even for a Kit Kat, and so the only English writing on the entire package are the trademarks/brand names. Interestingly, the little sign that the cute burger guy is holding up reads "Rich White", the flavour. But 'white' is spelled out phonetically, in English. "Ho-Wa-I-To". I guess because white chocolate is a western thing? Still, we couldn't figure it out until we popped it into Google translate, even though we sounded it out. :)
The back is dense with information as well… Overall I like the mix of the corporate styles, and the edges seems really fun and playful, but the design is really very 'all business' over all, which I feel is a missed opportunity.
The opposite is true of the interior packaging, which is fun and graphic. All sorts of little Mos Burger characters running around. Super cute. Oh and I should point out both the back of the mini-packages as well as the back of the full size box have spaces for you to write an inspirational message to the person you're giving this gift to, in keeping with the theme of this year's Kit Kats.
Scent: White. Chocolate. I haven't had a "pure" white chocolate kit kat in a very long time, and it's amazing to get one and have your idea of what they smell like sort of 'reset'. They have that sweet, slightly buttery scent of white chocolate and nothing else.
Taste: Actually, I guess I'm being a bit of a tease here. The first thing literally everyone has asked me about these Mos Burger special edition Kit Kats is if they taste like Mos Burger, or hamburgers. They don't, I'm sorry to say. While I would be all over burger (cheese burger!!!!) flavoured Kit Kats, these are simply "Rich White Chocolate", which is to say standard white chocolate so far as I can tell. I'm sorry if you're terribly disappointed…!
As to what it does taste like? It's actually pretty good! I tend to find every single Kit Kat made with the white chocolate base incredibly sweet (sometimes it 'works', sometimes it doesn't), but this 'pure' white chocolate version is actually quite a bit less sweet than I was expecting. Part of that might be that this is "Rich White Chocolate", perhaps intended to be a mellower, fuller flavour? But I think it's mostly attributable to the milk chocolate between the wafers. The whole experience is actually a totally balanced bite of Kit Kat… I was sincerely not expecting that.
Verdict: I've got 4 boxes of special edition Mos Burger Kit Kats left, and while I'll be sharing a few with friends (hi friends!) I actually won't mind when it comes time to try another one of these, they were a nice little snack. As for their intended purpose, a bit of an add-on/upsell at the burger joint? Sure, why not? I could see this being a satisfying little desert after wolfing down a delicious MOS Burger and some onion rings.
Congrats to MOS Burger and Kit Kat on an excellent first collaboration!
Mos Burger x Kit Kat Press Release: http://www.mos.co.jp/news/20111215_1.html