Yubari Melon Kit Kat
Purchased: Tokyo, Narita Airport November 2010
Best Before: May 2011
Review Date: July 2011
Original Price: ??
My fall trip to Japan was largely fruitless, at least in terms of finding rare and unique new Kit Kats. By the time I'd finished my trip and arrived at the airport I was carrying bundles of maybe 6, maybe 7 different flavours and only 3 that were new to me… out of more than 100 different places I'd gone looking for them. I found Toasted Soy Flour and Soy Sauce Kit Kats at a Lawson in Shinjuku; Wasabi Kit Kats at the Ueno JR Station. I'd found Sweet Potato Kit Kats everywhere, being that'd they'd just been released. But yeah, by the time I'd arrived at the airport I was in a bit of a down mood, expecting the motherload and only having been moderately successful for all of my efforts.
Then, I found a near-magical store at the airport. It was an "import food" store, which is to say that they imported goods from around Japan, primarily food, and then sold them. And what did they have at that store? Why nearly 12 different flavours of Kit Kat that I hadn't seen anywhere on my trip. I spent hundreds of dollars at that store (much to my husbands chagrin), and it was there that I acquired Yubari Melon Kit Kat for the firsttime.
My very good friends Jim and Stacy also brought me back a standard Kit Kat bar version of Yubari Melon from their trip in May 2011, just a few months ago and after this wonderful Melon Kit Kat had been released nation wide. I might go and review those as well, shortly, especially as they probably aren't 2 or 3 months past their best before date. Until then, Yubari Melon Kit Kat–Gift Pack Edition!
Packaging: Love it. Love it all. This tiny gift set features 5 mini foil packages of Kit Kats, each with two small bars in them. The exterior of the box has pictures of both the product and what it's supposed to be, and we can tell quite clearly from the photo that "Yubari Melon" is nearly analogous to Cantaloupe here in North America.
A special feature of this gift-packaging is that these are actually intended to be mailed. Seriously, pop on a stamp and send it away. The back features a "Message" area on it, and even better, that whole thing has been de-embossed, missing the glossy coating that the rest of the box has so that it's easier to write on! Oh my goodness! Bravo, Kit Kat!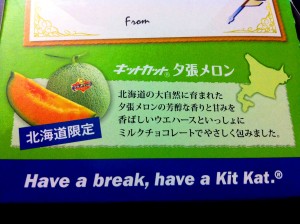 The packaging also tells us that Yubari Melons are native to Hokkaido, and as such this is a regional snack. The packaging even features a little blurb that I absolutely cannot read–feel free to translate it in the comments if you feel so inclined. Still, a snack and a bit of history, what more could one ask for?
This packaging is so amazing, so thoughtful, so well done.
Smell: Unlike certain other flavours, there's no strong scent when you crack the packaging on this one. Up close you get that distinct milk chocolate Kit Kat scent, and a very sweet melon scent as well. It's pleasant, but it's not that intense.
Taste: So here's the thing: You either like chocolate and fruit mixed together, or you don't. Being the open-minded sort, I was really excited by the prospect of biting into a melony milk chocolate Kit Kat bar–considerably moreso than I would have been if it were one of the white chocolate bars. On that note, the bar is a complete success. The milk chocolate of the Kit Kat matches nicely with the Japanese melon flavour of Yubari Melon… It's a good match and quite tasty.
The melon flavour is close to Cantaloupe, but if you've ever had any other Japanese melon-flavoured items, it's much closer to those than to fresh cantaloupe. Items like melon-flavoured ramune, or melon-pan (a melon flavoured snack bread I hope to review soon) are good touchstones for what this one tastes like, of course with the added bonus of milk chocolate. It's not overly sweet either, which is appreciated.
Of course, if you're like my husband the thought of mixing fruit (particularly artificial fruit flavouring) and chocolate is an abomination, and as such this is one of his least-favourite Kit Kats of all time. If you're not a fruit and chocolate person, this bar isn't going to convince you.
Verdict: Oh I'd definitely eat this again–I'm actually happy to hear that it got a widespread release in Japan, as that means it was popular enough that it'll get re-released for years to come. If I were in a convenience store and couldn't find something new to try, I'd be happy to pick one of these up knowing I'd enjoy it.
I'm so incredibly happy I stumbled across these in Japan, and if you get the chance definitely try one, you won't be disappointed.