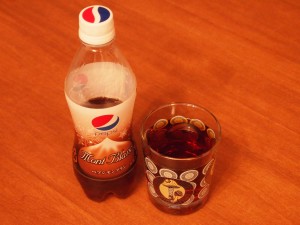 Pepsi Mont Blanc
Purchased: November 2010
Best Before: May 2011
Review: March 2011
Lest you think that my fervour for Japanese confections only extends as far as unique flavours of Kit Kats, let me introduce you today to Pepsi Mont Blanc, the limited edition winter Pepsi introduced in fall 2010. Taking the same cues as sweet-potato-flavoured Kit Kats, Mont Blanc Pepsi attempts to hit the same sentimental, nostalgic winter notes, quite specifically with chestnuts in the style of the French Mont Blanc dessert. It's just the latest in a string of headline-grabbing Japanese Pepsi flavours, including Cucumber, Shiso Leaf, and Blue Hawaii, amongst others. I'm going to spoil the surprise here: Pepsi Mont Blanc is delicious. If it were available regularly, it'd be my soda-pop of choice… in most situations…
Packaging: The package design is gorgeous. It looks sophisticated, going with a chocolatey brown and creamy white design that immediately sets it apart from garish soda packaging. The bottle actually has SPOT VARNISH on the snowflakes! The large clear areas show off the product inside, which is notably lighter than regular Pepsi or Coke… it actually looks like strong tea. The shape is great too, resting in the hand comfortably, easy to drink. Seriously, ideal packaging for this product. Top marks.
Smell: You won't find out until you visit (or track down a really great importer), but Japanese pop bottles have a really intense POP when you crack the air-tight seal on the lid, it's neat. Cracking the lid on Pepsi Mont Blanc, you're immediately hit with the scent of vanilla, and actually pretty intense at that. It's followed by an earthy smell, a sort of coffee/chestnut thing, and then the unmistakable Pepsi/Coke smell follows. It's actually really pleasant mixed altogether, a good warmup for what the beverage will taste like.
Taste: Right away you notice how much less sweet Pepsi Mont Blanc is than regular Pepsi, which I find sickly sweet. There's an earthy—almost bitter—coffee/chestnut flavour at the base, and really light vanilla and chocolate flavours all the way through. It's still clearly a brown soda and that one-note Pepsi/Coke taste is in there, but it's much smoother and more complex than any iteration of those sodas I've ever tried. It's not unlike a Coffee Crisp, actually, if you're familiar with that chocolate bar. But most importantly it's really enjoyable. I probably drank 3 or 4 bottles of Pepsi Mont Blanc while I was in Japan, and I was on a mission to try as many different flavours of soda as possible. But it really is that good, and if it were available in Canada I'd drink it almost all the time… on its own. The problem, if it has any, is that it really is a complex range of sweet and bitter flavours all on its own, and I don't think you could—or should—pair it with anything. Rather than grabbing a Pepsi and a slice of Pizza, you grab the slice of pizza, rinse with water, and then enjoy the Pepsi Mont Blanc for dessert. (The aftertaste isn't bad, a touch metallic at the 10 minute point, but honestly you really should've brushed your teeth by then anyhow.)
Verdict: What started out in some marketing executive's office hit the streets as a truly great, unique bottle of pop (Canadaism). I regret that I finished my last bottle doing this review.