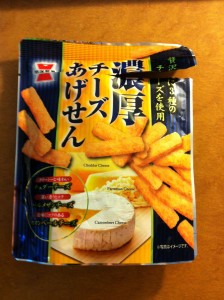 Hi there! I'm currently in Japan, and trying all kinds of different snacks and things. I hope you don't mind this shortened review format while I blaze through some new snacks!
Iwatsukaseika Ltd. Noukou Cheese Agesen (Cheese Crackers)
Best before: 2013.02.07
Review: 2012.11.12
Packaging: Ironically, I picked up this up because of the packaging, despite the fact that there's no English on it except for the words "Cheddar Cheese", "Parmesan Cheese", and "Camenbert Cheese". That's gotta be some pretty effective packaging, right there. :) The photography is big and clear, and communicates what these are all about. Crackers, or something like Japanese cheese straws, with lots of flavour. Since my beloved Cheeza crackers had become such a hit, the promise of a new, richly flavoured snack was welcome!
Scent and Taste: Opening the bag, I was happy with the low, pungent notes of cheese. Unfortunately, none of those were to be found in the product itself. In fact there is no cheese flavour to be found anywhere, in any bite of this. I tried it on its own, with alcohol, with coke, just to see if something would bring out a greater depth of flavour, and… nothing. These taste like fried crackers, and the texture and crunch are pleasant enough, but there's no there there, if you know what I mean.
Verdict: Profoundly disappointing. I was just explaining to a friend that they aren't bad exactly, they at least taste like food as opposed to some of the other things I've eaten on here. She said "if the nicest thing you can say is that they 'taste like food' then they're better left uneaten.
She's 100% right, of course.
I am mad at you, Iwatsukaseika, for promising me the big flavours of three cheeses and producing something that tastes like oily, run-of-the-mill cracker. I'm going back to Cheeza, and you will never see me again.