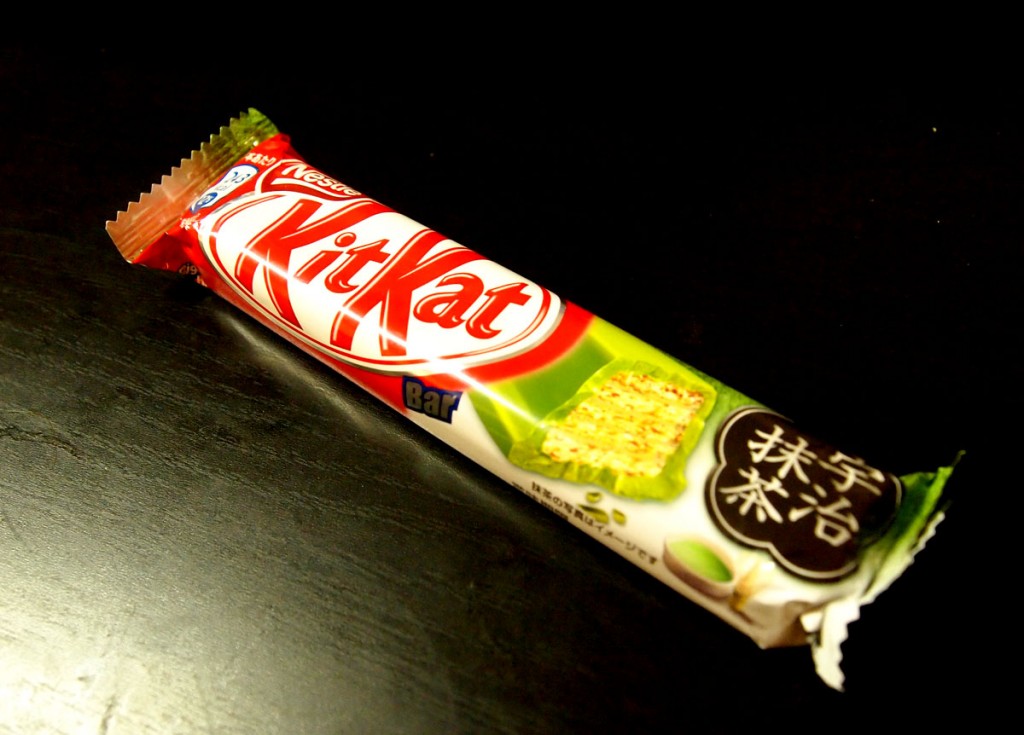 Kit Kat – Green Tea (matcha) BAR
Purchased: May 2010
Best Before: March 2011
Review Date: March 2011
There's nothing quite like green tea. When it's prepared right it's calming, rich, and deep. It's mellow, you know, but there's so much more. Matcha is a specific kind of green tea, a finely ground or milled green tea, and it is often used to flavour mocha, noodles, and ice cream. It goes without saying that it is a very different experience to slowly sip a delicious cup of green tea than it is to eat a candy bar—they're both good of course, but it'd take some sort of mad genius to try to combine the two. Luckily, there is the Nestle Corporation, and their Kit Kats, and so we have green tea Kit Kats. This was picked up on my May 2010 trip to Japan and the green tea Kit Kats were everywhere, in Bar and regular form.
Packaging: Great, like all of the Kit Kat bars. Big logo, a close-up illustration of the GREEN candy bar within (shocking!), and even a photograph of a cup of green tea, just in case you weren't getting it.
Smell: It really, really smells like green tea. Right at the bottom there it smells like your typical sweet Kit Kat, but yeah, it smells great.
Taste: Right away you get a taste of the matcha on your tongue, but it's like eating a Kit Kat made of green tea ice-cream, not actual green tea. I know, I know, it's a difference so subtle it might even be non-existent, and it might just be a the taste and the texture working together, but it tastes like green tea ice cream and not a steaming cup of green tea, as the packaging might imply. It's good though! It's less sweet than most of the Kit Kats I've tried, but it still has the white chocolate/candy base that most of the special Kit Kats do, and it doesn't 100% blend with the matcha flavour. I've had better green tea candy before, and I green tea mochi is a more delicious snack for sure.
Verdict: I'd probably grab one of these from the store if a new Kit Kat I hadn't tried before wasn't available, but I also might just grab a bag of chips too.